Edinburgh is home to vast selection of accommodation providing for all choices of style and cost. Within this section you will find a small crossection of some of the various styles and places to stay when in Edinburgh. The accommodation is split into different sections for ease of use.

Click on the logo to the left to view a selection of on-line bookable hotels. Bookings can also be made directly with any of the establishments listed within these pages or via the Tourist Boards Central Reservation Service :

Tel - 0131 473 3800
Fax - 0131 473 3881

Central Reservations Department
4 Rothesay Terrace
Edinburgh EH3 7RY
Scotland

Details required when phoning or writing :

Your Name & Address

Type of Accommodation (Hotel, Hostel, etc)

Type of room(s), party size, max. price per night

Arrival date, time, departure time.

Daytime Telephone/Fax No.

If your selected accommodation is not available an alternative choice will be reserved instead for you by the Tourist board staff. A provisional reservation will be sent to you specifying a "payment due by date". (Allow up to four weeks for peak time bookings from overseas)

Additional information can be obtained on over 400 places to stay by requesting the Edinburgh Holiday Guide 2000-01 it can be optained by contacting the Edinburgh and Scottish Information Centre :

For a comprehensive list of Edinburgh accommodation visit the
Edinburgh Tourist Board web site.

<!a href="JavaScript:goingBack()" onmouseout="dm(''); return true;" onmouseover="dm('Tourist Information'); return true;"> <!img align=left alt="View Tourist Information Map" hspace=5 border=none src="mapicons.gif"> Edinburgh and Scotland Information Centre
3 Princes Street
Edinburgh, EH2 2QP
Tel :0131 473 3800 (Queuing system, keep holding)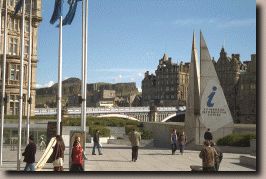 All accommodation within their publication has been independently inspected by the Scottish Tourist Board's Quality Assurance scheme.
Checking in advance for disabled information or for those with special requirements is advised. The Edinburgh and Scottish Tourist Board will be happy to help, or :

For disabled information contact
Grapevine
8 Lochend Road,
Edinburgh, EH6 8BR
Tel/Minicom : 0131 555 4200

HOTELS| GUEST HOUSES| SELF CATERING| HOSTELS| CAMPING/CARAVAN PARKS