Edinburgh Eglinton
18 Eglinton Crescent
Edinburgh, EH12 5DD
Tel : 0131 337 1120

Comfortable accommodation for up to 172 guests. Most rooms sleeping 4-8 people and are centrally heated. Comfortable lounges for relaxing and meeting fellow travellers, a separate television room and free hot showers and laundry room. A cafe/restaurant is situated in the basement of the hostel, offering great value meals. Self-catering kitchens are also available.

Dormitory from £10.50 to £13.00, MAP

Edinburgh Bruntsfield
7 Bruntsfield Crescent
Edinburgh, EH10 4EZ
Tel : 0131 447 2994

A friendly and relaxed atmosphere with available accommodation for up to one hundred and seventy two guests. The hostel is situated within a fine traditional style Victorian crescent, approximatly 20 minutes from the old town. No other catering is available on site appart from self-catering.

Dormitory from £8.50 to £11.00, MAP

In the summer when demand is at its highest two additional hostels are available. Pleasance offering basic accommodation and Central which is situated 5 minutes from the city centre and generally offering single rooms. For details of Summer Hostels contact :

SYHA District Office, 161 Warrnder Park Road
Edinburgh, EH9 1EQ
Tel : 0131 229 8660

For a comprehensive list of Scottish Youth Hostels visit the
SYHA web site.

Backpackers - Royal Mile


105 High Street
Edinburgh, EH1 1SG
Tel : 0131 557 6120
Fax : 0131 556 2981

This small comfortable hostel provides quality, comfort and sophistication with easy access to historical Edinburgh.

Dormitory from £9.90 to £10.90, MAP

Backpackers - West End
3/4 Queensferry Street
Edinburgh, EH2 4PA
Tel : 0131 226 2939
Email : princes.west@cableinet.co.uk
Website : http://www.princesstbackpackers.com/

Excellent central location with 24 hour access in the heart of Edinburgh's west end. Both rooms and dormitory's are available. Email services are provided on site as well as a shop, cafe and three meter wide cable television. An enjoyable large bar is also situated within the hostel. They've also expanded to the east side of Princes Street.

Dormitory from £7.00, rooms from £10.00, MAP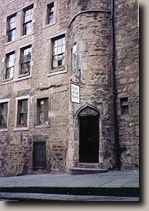 High Street Hostel
8 Blackfriers Street
Edinburgh, EH1 1NE
Tel : 0131 557 3984
Fax : 0131 556 2981
Email : high-street@scotlands-top-hostels.com

Situated in the middle of Edinburgh's cultural and drinking hot spot. This twenty four hour hostel is located five minutes away from both the grassmarket and the royal mile.

Highlights include the Castle, Writers Museum, St Giles Cathedral and as many pubs as you could ever need.

Dormitory from £9.90, rooms from £10.90, MAP

Castle Rock
15 Johnstone Terrace
Edinburgh
Tel : 0131 225 9666

Situated directly below the castle outcrop, providing one of the most central locations possible.

Dormitory from £10-£12
Cowgate Hostel
94-116 Cowgate
Edinburgh, EH1 1SN
Tel : 0131 226 2153 / 0131 226 7355
Email: info@eastgatehostel.com
Argyle Place Backpackers
14 Argyle Place
Edinburgh, EH9 1JL
Tel : 0131 667 9991 / 0131 466 7054
Fax : 0131 662 0002
Email : argyle@sol.co.uk
Website : http://www.sol.co.uk/a/argyle/
Belford Hostel
6/8 Douglas Gardens
Edinburgh, EH4 3DA
Tel : 0131 225 6209
Fax : 0131 539 8695
Email: info@hoppo.com
Website : http://www.hoppo.com/accomodation.html
Edinburgh Backpackers
65 Cockburn Street
Edinburgh, EH1 1BU
Tel : 0131 221 0022
Fax : 0131 539 8695
Email : info@hoppo.com
Website : http://www.hoppo.com/accomodation.html
HOTELS| GUEST HOUSES| SELF CATERING| HOSTELS | CAMPING/CARAVAN PARKS